Polished Concrete-LOOKS SPECTACULAR INSIDE &OUTSIDE
Polished Concrete is starting to become very popular and the preferred flooring for many architects, commercial developments and residential home owners.Polished concrete is a good sustainable design flooring option & this polished concrete is treated with a chemical densifier and grounded with progressively finer grinding tools. The grinding tools are usually made up of diamond grinding cup wheels and diamond polishing pads. Polished concrete is a better flooring option because it makes use of the materials already present.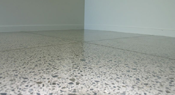 Features of Polished Concrete
Polished concrete floors come with low-maintenance, cost with more durability. polished concrete flooring is easier to clean than many flooring options & very important highlighting factor of polished concrete is "non- slippery.

The increase in popularity is because of its
Unique look & feel
Diverse & durability
Variety of Designs
Cost effective & low maintenance
Process involved in polishing concrete
The concrete floor is cut with a various kinds of diamond grits, the process of polished concrete usually involves a "3 step process" & is often referred to as a hybrid polished concrete. This polishing can be done in both wet or dry state depending on the site architecture.
A densifier is applied once the concrete is opened up and in a condition of readiness. In this step the densifier is applied & the state is determined by the person polishing the concrete.
The densifier is allowed to dry and followed by one or more cuts within given time, which will make the polish of the floor to the desired gloss.
This type of flooring is virtually maintenance free, exceptional durability and one of the most economical ways to get your floors looking great.
If you live in Mandurah or the surrounding areas and would like to find out how much your next project will be, get in contact with us today to arrange a free no obligation quote.
Feel free to chat with us on Facebook